Newborn
My absolute favorite portraits to do are those of newborn babies. There is just something so pure and innocent about them and it only lasts for such a short period of time and that to me it is the most important memory to capture.
Newborn GirlNewborn girl in neutral colored set up
Most people wonder when to take newborn photos, the best age is between 6 and 14 days of age while they still retain the curled posture and are very sleepy. This allows for creative posing and some of the most beautiful portraits.
Newborn Triplets2 boys and a girl newborn triplets
I have been presented with an Expertise award and voted one of the top newborn photographers in the Rockford IL area two years in a row. I have the knowledge and years of experience in working with babies so I am able to create a safe environment and use soothing techniques to calm the baby to be able to get the beautiful photos you see on my FB page and website. Most of the newborn shots are composites which are made up from two or more photos for the safety of the baby. Those things can be quite time consuming and ensure the end product looks amazing and different. I want each client to receive a gallery that is full of creative and one of a kind photos.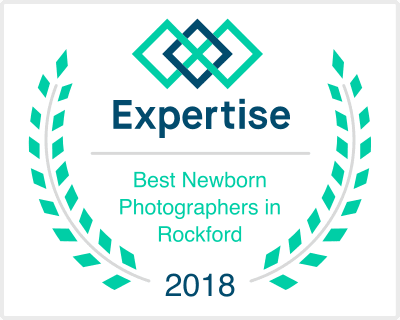 complimentary in studio consultation so I can introduce myself, show you around and discuss your needs and vision for the session

custom/personalized set ups with my ever growing collection of props and backdrops

posed shots as well as a room set up for more lifestyle type photos all within my studio

hair and make up for mom with all inclusive packages

use of client closet of newborn outfits/headbands/gowns for mom and outfits for older siblings

photographers time and talent as well as extensive knowledge of newborn safety

calm, soothing studio with a separate room for newborn and babies

sitting room for older siblings with snacks and tv and for nursing mom's comfort and privacy

extensive photoshop knowledge which helps safely pose babies and composite shots into beautiful works of art

assistant present at every session to help keep baby safe in props

no time limits on session so you never feel rushed but my years of practice means I have a workflow that makes the average newborn session about 2 hours

complimentary in studio viewing and ordering session to let you choose and purchase only the photos you love and help guide you on best ways to display them

Ask about adding on maternity or additional sessions throughout baby's 1st year.
To book your complimentary in studio consultation to go over pricing and how we can customize your session click on the link below
$475 Retainer is due to secure a session, this payment will be applied towards any package.
Packages start at $800, most clients spend around $1700 for their experience.

Payment plans available, please inquire.
For more information please call Evelina at 815-596-9027